Když dojdou věcné argumenty, objevují se vždy pohádky o tom, jak zlá EU zakázala nám hodným a počestným národním státům vyrábět, prodávat nebo aspoň nazývat produkty tak, jak sami chceme. Objevují se nářky, že bez českého rumu už nebudou vánoce nikdy jako předtím, a že je přece naší věcí, zda něco nazveme máslem, nebo ne.
Během debaty, kterou pořádal think-tank Evropské hodnoty, si návštěvníci mohli poslechnout názory expertů, jak to bylo ve skutečnosti s některými v médiích nejvíce propíranými kauzami zákazů "přísné soudružky EU". Milena Vicenová, exministryně zemědělství a bývalá velvyslankyně ČR při EU, si připravila rozsáhlý příspěvek na téma potravin v EU, Bohuslav Studýnka z České pozice promluvil o kauze s pomazánkovým "máslem nemáslem" a expert ze společnosti SEVEn Michal Staša účastníky debaty seznámil s problematikou úsporných žárovek.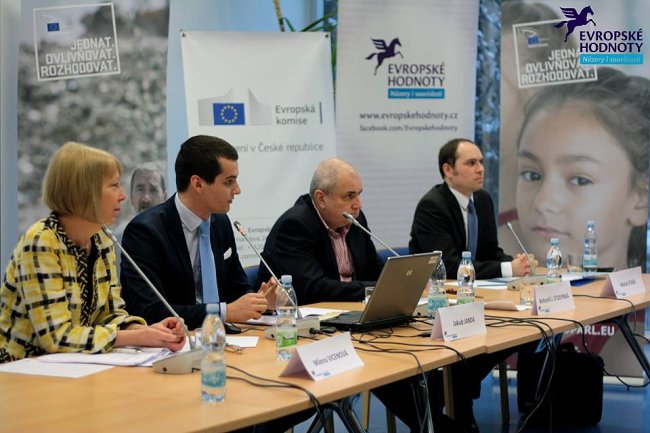 Foto: Monika Palušáková
Tvarůžky a pomazánkové nemáslo
Detailní popis systému bezpečnostních opatření a nástrojů na ochranu spotřebitelů uvedla Vicenová připomínkou nastavení volného obchodu v Unii. Právě díky tomu, že můžeme dodávat (nikoli již exportovat) naše výrobky kamkoli po Evropě, je potřeba sjednotit některé požadavky na hygienu, bezpečnost a kvalitativní parametry. Zde se dostáváme k onomu omezování. "Když výrobky některé požadavky nesplní jako například francouzské sýry z nepasterizovaného mléka či produkty české zabíjačky, mohou se dále prodávat, ale s omezením místa prodeje," uklidňovala Vicenová. Výsledkem jenom bude, že si prostě například nedáte na oběd českou držkovou polévku v norském Bergenu.
Na druhou stranu EU nabízí mechanismus speciálních chráněných známek, jakýsi potravinový patent, který zaručuje tradičním a lokálním potravinám jejich exkluzivitu. České republice se povedlo získat šest známek pro potraviny chráněné na základě původu (Žatecký chmel, Pohořelický kapr), 23 na základě zeměpisného označení (Budvar, tvarůžky, valašský frgál, hořické trubičky) a čtyři pro tradiční speciality vázané na recepturu (špekáčky).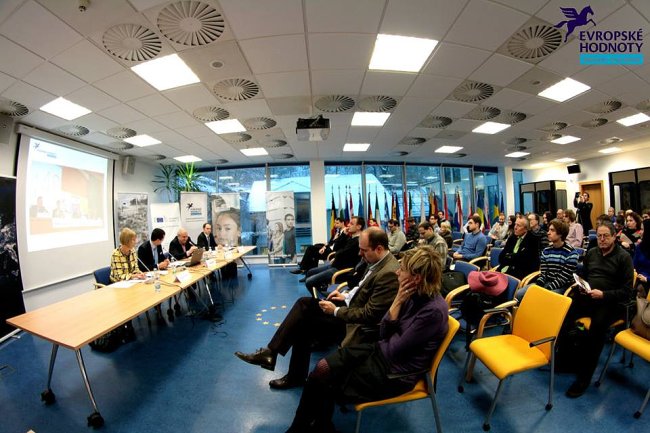 Foto: Monika Palušáková
Obzvláště u tvarůžků bylo získávání certifikace velmi pikantní. Vzhledem k tomu, že se sýr, o kterém se tvrdí, že pochází již z 15. století, vyrábí také v Německu a Rakousku, narazili jsme zde na odpor vydat nám ochrannou známku právě u našich sousedů. Šest let trvalo, než jsme vybojovali "smrduté vítězství" (jak to trefně nazvaly ve svém článku Lidové noviny), ale nyní už bude jasno, jaký je pravý původ tvarůžků. "Stejně tak jsme slavili vítězství i s lázeňskými oplatky, na které si Němci také činili nárok," připomněla bývalá ministryně zemědělství.
Jak je to ale s pomazánkovým máslem? Není i ono tradiční českou specialitou? Bohumil Studýnka, autor článku na toto téma, zde oplakávané mazadlo nijak nešetřil. Popsal, jak vzniklo v roce 1977 na základě špatného socialistického hospodaření jako jakási z nouze cnost, když bylo během nedostatku másla možné využít přebytky sušeného mléka a syrovátky. Že se s pouhými 31 procenty mléčného tuku nejedná o máslo ani náhodou, zde není důležité pouze pro klidné spaní úředníků v Bruselu, ale především pro samotné spotřebitele.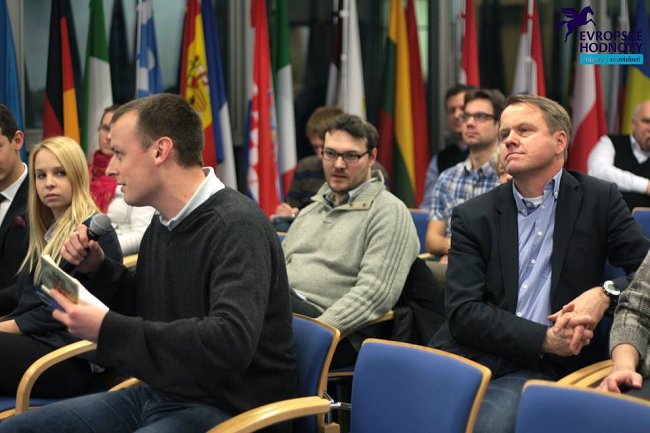 Foto: Monika Palušáková
Konec žárovek v Čechách
Závěrečný příspěvek přinesl Michal Staša ze Střediska pro efektivní využívání energie na téma žárovek. Překvapivě to nebyla Evropská komise, ale Evropská rada, tedy členské státy včetně České republiky, kdo dal impuls k nařízení vystřídat běžné žárovky těmi šetrnějšími. Jmenovitě šlo o ministry Řebíčka, Římana a premiéra Topolánka. Nařízení č. 244/2009 se týká spotřebičů s významnou spotřebou. Kromě žárovek tedy jde i o některá další elektrická zařízení (vysavače, klimatizace, chladničky apd.), u nichž bylo díky tomuto nařízení možné popostrčit vývoj kupředu. Zde přispěl se svým názorem také exministr Bursík, který poukázal na skutečnost, že nové žárovky ušetří až 90 procent energie. Byla by proto škoda nařízení nevyužít a pouze na základě naší nevědomosti životní prostředí zatěžovat mnohem více, uvedl Bursík.