Prezident chce na Pražském hradě vyvěsit vedle české vlajky též zástavu EU. Symbolický moment dokonale ukazuje, jak primitivní hra s detaily dokáže manipulovat s davy. A na kolik v Česku potřebujeme argumentačně zralé politiky.
Přirozeně se  o slovo přihlásila skupinka obvyklých podezřelých z řad posedlých uctívačů suverenity ve stylu 19. století, Svobodní (od kterých se kvůli jejich neschopnosti a salónímu uctívání liberalismu odklonil i jejich skoropatron Václav Klaus) pořádají protestní demonstraci. Chtějí, aby "na Pražském Hradě zůstaly vztyčeny české vlajky a aby žádná z nich nebyla nahrazena evropskou vlajkou." (citováno s gramatickou chybou)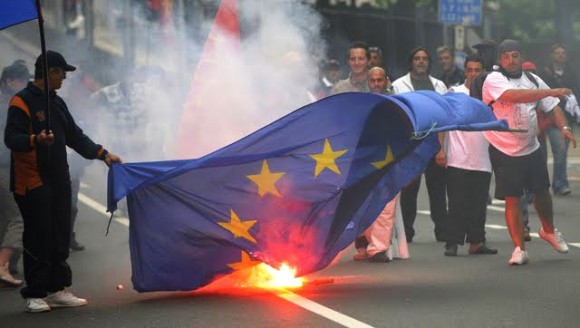 Jakmile se řekne, že bude česká zástava nahrazena evropskou, zamrazí téměř každého Čecha. Sousloví vlajka EU nad Pražským hradem též zní výhružně většině republiky. Naše doba se vyznačuje slabostí politických elit. Zejména v jejich argumentačních schopnostech, tedy v tom, zdali jsou schopni postavit se za kroky, které považují za správné a uvěřitelně je vysvětlit.
 Co tedy říct do kamery, když stojíte v přímém přenosu před národem, kde deset let deformoval jakoukoliv konstruktivní diskuzi o evropských otázkách bývalý prezident? Projev prezidenta, který ví, kde stojí, by mohl vypadat takto:
 "Vyvěšení evropské zástavy chápu jako symbol, že se Česká republika po deseti letech nekonstruktivní kritiky evropské integrace (tedy opakuji, nenavrhující alternativy a neúčastnící se diskuzí na evropské úrovni) vrací do skupiny zemí, které budou proaktivně prosazovat své zájmy v rámci EU.
 Tedy, okřídleně řečeno, "Evropská unie je i naše". To nemá s diktátem Bruselu nic společného, jak to interpretují zatuchlí izolacionalisté. Sedět v rohu a nadávat na zbytek třídy, že se baví o společné budoucnosti, může jen asociál. Nelze se pak divit, že se třída rozhodne jít bez vás na výlet či společně utratit kasičku, když se neúčastníte společné diskuze a rozhodování.
 Již dnes visí před Ministerstvem obrany vlajka NATO, jehož jsme hrdým členem. Evropská vlajka dnes vlaje nad Úřadem vlády, před Nejvyšším kontrolním úřadem nebo na budově Ministerstva zahraničních věcí. Jelikož ctíme českou historii a tisíce lidí, kteří kvůli vlajce umírali, přirozeně vždy první vztyčíme vlajku České republiky a až poté zástavu EU, která bude vždy VEDLE naší vlajky, nikdy ne NAD ní.
 A pokud se mne ptáte, proč nestavíme na Hradě stožáry pro vlajky OSN, FAO, OBSE či OECD, odpovím triviálně. Česká republika je hrdým členem těchto organizací, ovšem Evropská unie je ze všech mezinárodních integračních projektů pro náš stát nejdůležitější a nejklíčovější – umožňuje nám totiž silně spolupracovat se státy, které nám jsou nejblíže – geograficky, kulturně, ekonomicky i politicky.
 Je mi upřímně naprosto jedno, nad kterými paláci Evropy vlajka EU vlaje či nevlaje. Česká republika se rozhoduje sama za sebe a já se pokusím ve spolupráci s vládou naplňovat zájmy našeho státu a jeho lidu nejlépe, jak jen dokáži. Vyvěšení vlajky není otázkou věcného sporu o výši rozpočtu nebo konkrétním politickém kroku ani demonstrací podpory konkrétních tahů na evropské mapě. Znamená pouze, že se cítíme být součástí klubu, je symbolickým krokem.
 Zásadně také odmítám přirovnání modré vlajky s hvězdami ke standartě Sovětského svazu nebo nacistického Německa. Český lid se v roce 2003 vyjádřil 77% podporou pro vstup do tohoto společenství a dnes má jen ve svých rukách svůj vlastní osud, naši ministři i experti se účastní spolurozhodování na všech unijních úrovních. Pokud jsme v nich neúspěšní, nesvalujme to na Brusel, ale na svou vlastní neschopnost.
 Člověk přirozeně nemůže být vždy spokojen s chováním celé party lidí, jíž je členem. Nejvíce pro sebe může udělat, pokud si co nejvíce bere slovo a mluví o směřování celé skupiny. I proto je čas hovořit o tom, co Česká republika v rámci Evropské unie chce, nikoliv z dálky nadávat, co se jí nelíbí."